Elon Musk Queries Expertise Of Thai Cave Rescue Officials
Entrepreneur turns on mission leader who rejected his offer of a submarine
Elon Musk has questioned the expertise of Thai rescue officials who turned down his offer of a submarine, despite their having organised the successful rescue of all 12 boys and their football coach from a flooded cave.
The entrepreneur had offered his help and posted footage of tests being carried out on the apparatus he proposed in recent days.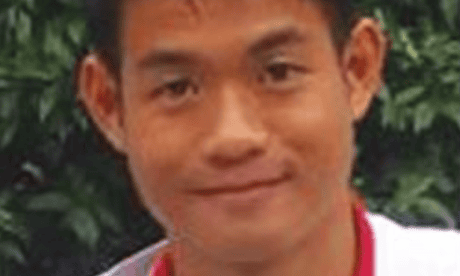 Brother Ekk: Thai coach who put players first right to the end
But while Narongsak Osatanakorn, the head of the joint command centre co-ordinating the operation, acknowledged Musk's offer he said that the mini submarine would not have been practical for the cave rescue.
"Even though their equipment is technologically sophisticated, it doesn't fit with our mission to go in the cave," Osatanakorn told reporters.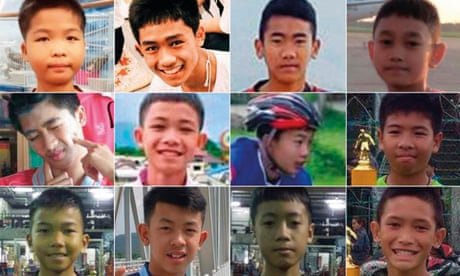 Thailand cave rescue sparks celebration of 'mission impossible'
In response, Musk said Osatanakorn was "not the subject matter expert", adding that he believed he had been "inaccurately described as rescue chief", and should be more accurately referred to as the "former Thai provincial governor".
Osatanakorn stepped down as the governor of Chiang Rai during the rescue operation, but remained its commander.
Musk posted an image of his email correspondence with Dick Stanton, the British diver who first made contact with the football squad and their coach, in which Stanton asked the inventor to keep working on a project that could potentially bear fruit.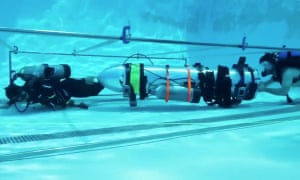 A submarine made by Elon Musk's SpaceX and The Boring Company designed to help the rescue is tested in a swimming pool. Photograph: social media/Reuters
"Moreover, based on extensive cave video review and discussion with several divers who know journey, SpaceX engineering is absolutely certain that mini-sub can do entire journey & demonstrate at any time," Musk added.
Musk congratulated the team who carried out the operation, which concluded successfully on Tuesday afternoon. "Great news that they made it out safely. Congratulations to an outstanding rescue team."
Just returned from Cave 3. Mini-sub is ready if needed. It is made of rocket parts & named Wild Boar after kids' soccer team. Leaving here in case it may be useful in the future. Thailand is so beautiful.
He said he would be leaving the mini submarine behind in Thailand "in case it may be useful in the future".
There was a global outpouring of relief after it was announced that all 12 of the boys and their coach had been rescued. Theresa May, the British prime minister, was among world leaders congratulating the dive team. "Delighted to see the successful rescue of those trapped in the caves in Thailand. The world was watching and will be saluting the bravery of all those involved," she tweeted.
It was announced that the promise of tickets to Sunday's World Cup final would not be feasible because the rescued boys and their coach would need medical treatment. The team and their rescuers were invited to visit Manchester United during the coming season.
Source: /www.theguardian.com
Comments